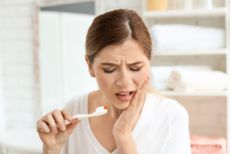 It goes without saying that COVID-19 has dramatically changed our lives. Now, many of the services you need simply aren't accessible like they once were. However, there's one thing that will put your mind at ease: Although dentists aren't open for routine visits, emergency dental care is still available! But how can you tell if you're having a true emergency or not? In this blog, you'll find out when to call an emergency dentist and also get tips for how to prevent emergencies altogether. With this information, you'll have one less thing to worry about during COVID-19.
What Constitutes a True Dental Emergency During COVID-19?
Here are some indications that you need emergency dentistry right away:
You have pain that disrupts your normal activities – If you have severe discomfort that makes chewing, working or sleeping difficult, call a dentist right away.
You have a knocked-out tooth – In this situation, time is of the essence. You'll have the best chance of saving your tooth if you can see a dentist within an hour.
A chipped tooth or broken dental work that's causing pain – Schedule a visit right away if you're in pain after breaking a tooth or any dental work. And while you can usually wait a little while on a chipped tooth thatisn't painful, don't let it go too long. It will be more prone to breaking again and causing more serious damage.
Swelling – If you have a swollen lip or cheek or notice a pimple-like bump on your gums, you may have a serious infection or deep cavity. Call an emergency dentist immediately – the infection can spread to critical areas of the body and become very dangerous if it's not treated.
Also, don't forget that you can always call an emergency dentist if you're ever in doubt. They're still available to answer any questions over the phone and will be happy to tell you if you need to come in or not.
In addition, you're probably aware that everyone is encouraged to avoid trips to the emergency room during COVID-19 (unless they're absolutely necessary). With that said, you will need medical care if you have a broken jaw or heavy bleeding won't stop after applying pressure for 15 minutes. Again, you can always call an emergency dentist first if you aren't sure.
Preventing Dental Emergencies During COVID-19
Maintain good brushing and flossing habits to prevent cavities, painful toothaches, etc.
Don't use your teeth as tools to open bottles or packages.
To prevent chipped teeth or dental work, wear a custom-made nightguard for clenching and grinding.
Use a custom-made athletic guard if you play sports to prevent serious injuries like knocked-out teeth.
Dental emergencies are always stressful (and perhaps even more so right now). But with emergency dental care just a phone call away, you can rest easy knowing that you and your family will be taken care of.
About the Author
Dr. Haren Patel is a general and emergency dentist with nearly 20 years of experience. He's always made emergency care a priority and continues to do so during COVID-19. With advanced training and technology, he's able to relieve pain quickly while also preserving his patients' long-term oral health. If you're having a dental emergency or have any questions, he can be reached via his website.