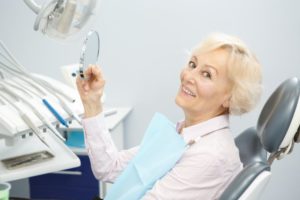 Did you know that by the time George Washington was elected president, he only had one natural tooth left? While he never had any wooden teeth, he did wear several sets of dentures. Unfortunately, they didn't fit him very well and he often complained about how uncomfortable they were. Thankfully dentures have come a long way since then, but they can still cause serious disruptions if they don't fit properly. If you have dentures in Woodstock, here are the tell tale signs that they need to be replaced.
Signs Your Dentures Need to be Replaced
If your dentures become damaged or no longer fit properly, they can become uncomfortable and distracting. If you experience any of the following symptoms, it's time to consider replacing them:
Chewing or speaking becomes more difficult. These functions will take some time to get used to at first, but they shouldn't become more difficult later on.
Your dentures feel loose. To stay in place, most dentures rely on suction or clasps. If they feel like they might fall out, that could mean they've lost their grip.
Your bite becomes uneven or misaligned. As the shape of your jaw changes, your dentures may not line up properly anymore and create uneven pressure on your gums.
Your gums are sore or inflamed. Extra pressure from dentures that no longer fit can irritate your gums, causing discomfort and small sores.
Your facial structure changes. Dentures that need to be replaced won't properly support your jaw. This can cause bone resorption and change the bones that shape your face.
Denture Replacement Options
Sometimes, your dentures simply need to be adjusted by your dentist to fit properly again. However, dentures generally have a lifespan of 7-10 years. If you've been wearing the same dentures for 10 years or more, or if you have any of the above symptoms, they should be replaced. If you're looking for a more permanent option than dentures, dental implants may be the perfect solution.
Dental implants in Woodstock replace missing teeth both above and below the gumline, creating the same look, feel, and function of a natural tooth. They're securely integrated into your jawbone so they'll never feel loose or irritate your gums. This also stimulates blood flow, preventing bone loss and changes to your facial structure. As long as you take care of it with regular brushing and flossing, a dental implant can restore your smile for a lifetime.
Don't let old or ill-fitting dentures disrupt your life. Watch out for these signs that your dentures need to be replaced, and invest in your smile for years to come with dental implants instead.
About the Author
Dr. Haren Patel is a preventive, cosmetic, and restorative dentist based in Woodstock, GA at Dream Dental. He has over 15 years of dental experience and has been serving the Metro Atlanta and North West GA areas for over a decade. He believes that dental implants offer the most complete tooth replacement solution for a happy, healthy, confident smile. If you have any questions, you can contact him at his website or at (770) 592-7000.