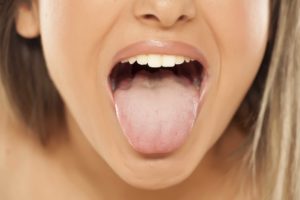 Sticking your tongue out at someone is usually considered a rude gesture. But not during a checkup with a family dentist in Woodstock! In fact, dentists often ask you to stick out your tongue to help them get a better look and potentially find signs of various health problems. But you don't have to wait until your next checkup to learn what these symptoms might mean. Keep reading about 4 "tongue troubles" to watch for that could indicate something more serious is going on.
1. Your Tongue Has a White Coating
A white coating on your tongue could be a sign of thrush or leukoplakia. Thrush is a type of yeast infection that occurs in the oral cavity and is sometimes accompanied by an unpleasant taste and/or a mild burning sensation. A dentist can prescribe anti-fungal medication to treat it.
Leukoplakia often shows up as white patches and results from chronic irritation of the soft tissues from things like smoking or chewing tobacco, alcohol, trauma, and certain microorganisms. It can be an early indicator of oral cancer, so be sure to schedule a dental checkup to have it looked at.
2. Your Tongue Is Either Dark Red or Pale In Color
A tongue that's pale in color could be a sign of low iron levels or anemia. A tongue that's dark red could mean an allergic reaction to a medication or food. Or you could have a folic acid or vitamin B-12 deficiency.
Another possibility is "geographic tongue," which appears as dark red spots that look like a map and can move around. Although typically harmless, it can cause a mild burning sensation or sensitivity to spicy foods.
3. Your Tongue Is Black or Brown
Your tongue is covered in small, hair-like projections called papillae. If you don't brush your tongue regularly, these papillae will start harboring a variety of bacteria, some of which are dark in color. Papillae continue to grow longer with age, so it's even more important to keep your tongue clean as you get older.
4. Your Tongue Has Bumps, Sores, Or Lesions
Bumps, sores and lesions could indicate any of the following:
Trauma – Burning or biting your tongue often results in temporary sores or bumps.
Canker sores – Although the exact cause for canker sores is unknown, these small, oval-shaped ulcers are relatively common and usually fairly painful. Most go away within 1-3 weeks.
Oral cancer – In some cases, a sore or lesion may be a sign of oral cancer, particularly if it persists for several weeks. If you notice a chronic sore or lesion, even one that isn't painful, schedule with a family dentist in Towne Lake to have it evaluated right away.
You may not spend much time thinking about your tongue. But since it can tell you a lot about your state of health, it's a good idea to keep an eye out for these 4 signs and symptoms in between checkups.
About the Author
Dr. Haren Patel is a family dentist in Woodstock and a graduate of the University of Illinois at Chicago. As part of his commitment to providing comprehensive dental care, he thoroughly evaluates the tongue during every checkup to help his patients achieve great oral health and well-being. If you have any questions about your tongue, he can be reached via his website.