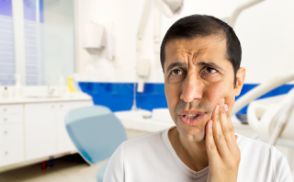 A painful toothache can come on suddenly and often makes everyday activities like eating a meal or going to work difficult (or even possible). In some cases, the pain is so bad that it's all you can think about. Understandably, your first priority is getting out of pain as fast as possible, so you'll want to call an emergency dentist in Woodstock right away to schedule the first available appointment. You can also use over-the-counter medication to stay comfortable until your visit. In this blog, you'll find out what causes toothaches in the first place and what type of pain medication you can use for fast relief!
Why Do You Have a Toothache?
Toothaches can cause varying degrees of pain and include symptoms like dull or throbbing pain, swollen gums, and fever. The fundamental cause is inflammation or infection in the nerve of the tooth, which often occurs from a cavity or some type of trauma.
Usually, small cavities only cause mild discomfort because they haven't reached the nerve yet, which is located in the center of the tooth. If left untreated, however, the cavity will grow larger and eventually get closer to the nerve, resulting in a painful toothache and infection.
A tooth nerve can also become inflamed from trauma such as an accident that involves blunt force or biting down on something that fractures the tooth.
The Best Over-the-Counter Pain Medications For a Toothache
Pain medication from the store can provide welcome relief from a toothache. But it's important to remember that, even if your pain subsides, you must have the tooth looked at by an emergency dentist as soon as possible to address the infection and keep it from spreading.
With that said, ibuprofen is a great choice for most people. But don't take it if you're already taking a prescription blood-thinner like Warfarin. In fact, keep in mind that any type of NSAID (e.g. ibuprofen, aspirin, naproxen, etc.) will thin your blood, so take acetaminophen instead if this applies to you.
Also, you may have heard that applying aspirin directly to your tooth or gums is helpful, but it's best avoided because it's ineffective and can also burn your gum tissue.
When you have a toothache, you just want to feel better. By making a dental appointment right away and using the right over-the-counter medication, you'll be out of pain before you know it!
About the Author
Dr. Haren Patel is a general and emergency dentist in Woodstock with nearly 20 years of experience treating toothaches. Whether his patients are in mild or severe pain, he makes them comfortable right away while also maintaining their long-term oral health. If you have a toothache or have any questions, he can be reached via his website.