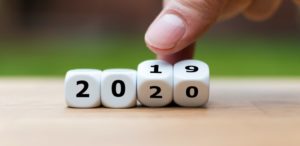 As soon as the clock strikes midnight on December 31st, over 100 billion dollars in dental insurance benefits will be instantly lost. Every year, millions of people end up losing benefits they have already paid for, and many are completely unaware of it. To make sure you don't contribute to this total, a family dentist in Woodstock is here to reveal how this works so you can make the most of your plan before 2020.
Use It or Lose It
Most dental insurance plans have what is called an annual maximum, as in, the highest dollar amount it will pay for care in the calendar year. Depending on the policy, this amount can range from about $1,000 to $1,500. About 97% of people with dental insurance use only a small fraction of this total. So, any leftover money from one year just rolls over to the next, right? WRONG.
Whether you have $5 or $500 left on your annual maximum, if it's not used by the time the year ends, it instantly goes back to the insurance company, and the amount is reset. Most dental insurance providers don't talk about this because they want patients to leave money on the table. Rather than losing benefits you've already paid for, here are a few ways to maximize your dental insurance ahead of 2020.
Get that 2nd Checkup & Cleaning
The American Dental Association and every dentist in Woodstock will tell you that a person should get at least two checkups and cleanings each year to keep their smile healthy and prevent minor problems from going untreated. Yet, most people only get one. This is not only bad for someone's teeth, but their wallet as well. Most dental insurance plans cover basic services like these 100%. So, if you've only seen your dentist once this year, now's the perfect time to schedule another appointment…you'll likely pay nothing out-of-pocket for it!
Don't Waste Your Deductible
A deductible is the amount of money you need to pay out-of-pocket before you have access to your dental insurance benefits. Just like your annual maximum, this resets at the beginning of every year. If you've already met your deductible for 2019, now's the time to get that filling, crown, or whatever smile repair you might need. Otherwise, if you wait until 2020, you will need to pay your deductible again for a procedure you could get right now for less money.
Things Change…A Lot
Compared to medical insurance, dental insurance policies change much more often and more dramatically. Premiums go up, benefits appear and vanish, and deductibles are all over the place as well. These changes usually occur at the beginning of the new year, so suffice it to say, the plan you have right now might be very different come January. If you like your coverage at the moment, you should take advantage of it. Waiting until next year may mean you'll need to pay more for the same benefits you're getting right now.
By working to maximize your dental insurance before the end of 2019, you'll be taking great care of both your teeth as well as your wallet. If you still have some money left on your plan, check in with your dentist, and they'll help you figure out the best way to use it so you can begin 2020 with a strong, healthy smile.
About the Author
Dr. Haren Patel has been taking care of patients in the Metro Atlanta and Northwest Georgia area since 2009, and he has over 15 years of dentistry experience overall. He and his team work extremely hard to make visiting the dentist affordable for every family, which is why his practice is in-network and gladly accepts a long list of popular insurance plans. To learn more about getting the most out of your insurance before 2020, he can be contacted by clicking here.