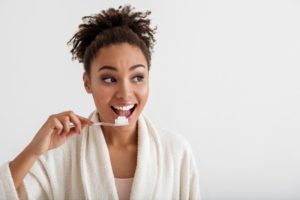 After getting porcelain veneers in Woodstock, you're excited to show off your gap-free, aligned smile. These custom-crafted shells made from porcelain are thin, but they're also very strong and built to last for years with the proper care. It's important to develop a good oral hygiene routine that helps keep your underlying teeth and gums protected against oral health problems. Here are three care tips to keep your new smile looking bright and healthy so you can enjoy it for years to come.
Good Oral Hygiene
To prepare your teeth to receive your permanent veneers, your cosmetic dentist in Woodstock needs to remove a small layer of your natural tooth enamel. This allows the shells to lay flush with the rest of your teeth. This can make them vulnerable to harmful oral bacteria and plaque if they're not regularly cared for. Plus, because your natural teeth are the foundation for your porcelain veneers, if they become unhealthy, your veneers won't have the support they need to last.
To keep your teeth and gums healthy and strong so your veneers last, be sure to brush twice each day for two minutes. Using a non-abrasive toothpaste and soft-bristled brush can ensure that your porcelain veneers don't get damaged while still effectively removing plaque and food debris. Don't forget to floss every day as well to remove these substances from in between your veneers.
Take Protective Measures
Certain bad oral habits can have a harmful impact on your oral health and keep your porcelain veneers from lasting as long as they should. Here are some tips to help prevent them from damaging your restorations:
Don't use your teeth to open packages or bottles.
Break the habit of nail-biting.
For athletes, wear a custom-crafted sportsguard to protect your teeth.
Treat bruxism by getting a custom oral appliance to reduce the impact the habit has on your veneers.
Avoid sticky and hard foods that could chip your veneers.
To get the most from your dental investment, it's best to follow these tips to keep the shells from cracking or breaking.
Visit Your Cosmetic Dentist Every Six Months
Just like you would with your natural teeth, it's important to visit your cosmetic dentist in Woodstock for your semi-annual checkups and cleanings. This gives them a chance to inspect the state of your oral health and determine if your veneers are in good condition. Your dentist can provide your veneers and natural teeth with the proper care and protection they need to remain healthy and looking great.
For additional aftercare instructions to help make your veneers last, don't hesitate to contact your cosmetic dentist. Keeping your oral health in tip-top shape after you've had this procedure is vital since they're extra-susceptible to developing issues that can have a permanent impact on your mouth.
About the Author
Dr. Haren Patel has over 15 years of experience in dentistry. His lifelong dream as to open his own dental office and provide patients with high-quality individualized care, which is where his practice name "Dream Dental" came from. He provides his patients with comprehensive treatments ranging from children's dental services to cosmetic procedures like porcelain veneers. For any questions or to schedule a consultation to improve your smile, visit Dream Dental's website or call 770-592-7000.