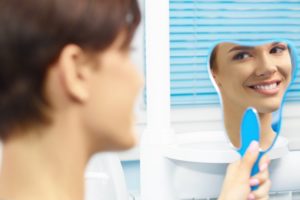 Are you looking for a way to brighten your smile? You've seen advertisements for all those over-the-counter whitening kits, but do they really work? Of course, in the commercials, everyone's smiles are bright and shiny, but that's TV. In real life, you won't be so lucky to achieve the same kind of results, which is why you should consider these 3 reasons to choose professional teeth whitening in Woodstock over what you can buy in your local drug store.
Discoloration: What Causes It?
Are you the kind of person that has to have a cup of coffee in the morning? Maybe it's not just one cup but instead, two or three? Dark-colored beverages can cause deep staining over time, but that's not the only way your teeth can become discolored. Here are a few additional reasons:
Stain-causing foods and beverage (i.e. coffee, tea, soda, berries, red wine)
Smoking or tobacco products
Age
Thinning of the tooth enamel
Certain prescription medications before teeth are fully developed
Overuse of fluoride as a child
The Superior Choice: Why Choose Professional Teeth Whitening?
If cost is a factor, it's natural that you would want to choose a store-bought kit; however, the investment you'll be making in whitening your teeth by a dental professional will be worth it, especially since you won't need to buy more and more kits in order to achieve results the first time.
Professional teeth whitening can be offered two ways: In-office or at-home. Depending on your individual needs and goals, both will give you the same dramatic results that will leave you with a stunningly beautiful smile. Apart from the results you'll achieve, there are other reasons you should seek treatment from a cosmetic dentist in Woodstock:
It's safer and more effective: No matter if you choose in-office or at-home whitening, you can trust that a dental professional will provide you with the appropriate tools and products needed to help you whiten your smile. They will also use a higher-grade bleaching gel to whiten your teeth, unlike store-bought brands whose gels and strips are significantly less powerful.
Customized whitening trays: Patients who want to whiten their teeth at home will receive custom-made whitening trays. This will ensure a proper fit and prevent any leaking or spilling of the gel once placed on your teeth. Over-the-counter products are one-size-fits-all and often lead to irritated gums and lips.
Greater results that last: You will see a dramatically whiter smile in less time than with a store-bought whitening kit, and your results will last longer. The reason is that drug store whitening kits don't have the powerful bleaching gel that removes deep-down stains, so you're forced to continually buy the kits to achieve your desired results. Professional teeth whitening only requires minor touch-ups every few months.
How Long Do Results Last?
Unfortunately, teeth whitening doesn't last forever, so follow-up treatments will be necessary if you want to maintain your results. However, whether you opt for in-office or at-home whitening, you can expect your smile to stay brighter for years with regular touch-ups. There are a few things you can do to keep your smile looking its best, including:
Brushing daily and flossing at least once a day
Rinsing with an antiseptic mouthwash
Making sure to brush or rinse your mouth after consuming stain-causing, sugary, or starchy foods/beverages
Keeping your regularly scheduled dental appointments
Avoiding tobacco products
The investment you'll make in whitening your smile will most certainly be worth it when you see the results. Not only will your appearance improve but your confidence will increase as well, making your smile a complete showstopper at your next event. Skip the store-bought brand and opt for a solution that will have you seeing a brighten smile for years to come.
About the Author
Dr. Haren Patel has more than 15 years of experience working in the field of dentistry. Originally from Ahmedabad, India, he studied dentistry at Gujarat University and earned his degree in 2002. Practicing for a few years, he moved to the United States in 2005 and pursued his Doctor of Dental Surgery degree at the University of Illinois at Chicago College of Dentistry. Excelling at all phases of general dentistry and pediatric dentistry, he continues to help the residents of Towne Lake and the surrounding communities achieve healthy, beautiful smiles. From preventive to cosmetic services, Dr. Patel can give you the smile of your dreams. If it's a brighter smile you desire, their teeth whitening services can have you seeing results in no time at all. To learn more about this service, visit our website or call (770) 592-7000.