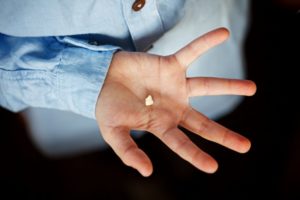 According to Dr. Greg Grillo, about 5% of dental crowns will break over time. While this low number may lead you to believe that you don't need to prepare for a damaged crown, it's better to be safe than sorry. Properly handling this dental emergency can save you from a serious infection or worse. In this post, your dentist explains what causes broken dental crowns in Woodstock and how to handle this situation.
What Causes Crowns to Break?
Dental crowns are designed to be long-lasting and can potentially stay in place for a lifetime. However, this is usually not the case. Most crowns have a lifespan of 5 to 15 years, depending on what material they're made from and how you care for them. Common reasons for crown damage include:
Age
Grinding or clenching your teeth
Mistakes during installation
Consuming hard and sticky foods
What Should I Do if My Crown Breaks?
Immediately call your emergency dentist in Woodstock to schedule an appointment. Make sure to mention your broken crown and if you're feeling extreme pain — because it's considered a dental emergency, your dentist will try to see you within 48 hours.
In the meantime, examine the affected area in a mirror or have a family member help. See if there are missing tooth pieces and run your tongue very gently across the tooth to check if there are any jagged areas that you should avoid. If the crown is hanging loose, you need to pull it off completely to avoid swallowing it. Try to refit it back onto the affected tooth by using toothpaste or a dental adhesive. Avoid consuming sugary, acidic and hard foods and take over-the-counter pain reliver if needed.
How Do I Properly Care for My Crowns?
While you can't completely prevent your crowns from falling out, there are ways to help prolong their lifespan:
Brush and floss your teeth daily
Use fluoride mouthwash
Don't chew on ice or other hard non-food objects
Avoid eating too many hard or sticky foods
Visit your dentist regularly for checkups
Wear a mouthguard when playing sports and/or if you grind your teeth at night
Dental crowns can help you repair a damaged tooth, but they require care as well. Talk to your dentist if you feel like your dental crown isn't fitted to your tooth correctly or is at risk of being damaged.
About the Author
Dr. Haren Patel has over 15 years of experience in dentistry. He is an expert in general and pediatric care. Dr. Patel is a member of the American Dental Association and Georgia Dental Association. If you have further questions about your dental crowns, he can be contacted through his website or at 770-592-7000.