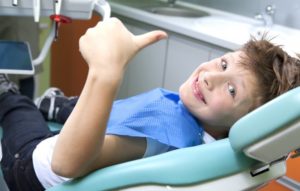 With the summer vacation in full swing, your child is likely enjoying time outside with friends or playing their favorite sport in preparation for the school year. Regardless of what they do, you want to do everything you can to ensure that their health is in order, including their oral health. With the summer comes unpredictable schedules, and you want to make sure that they're doing everything they need to protect their smile.
Part of that process is scheduling a visit with their children's dentist in Towne Lake. Here are three ways they can benefit when you schedule them today, rather than waiting for the school year to start.
Easier Scheduling, Fewer Conflicts
When your child is in school, it's understandable if you don't want to take them out of classes to get their teeth cleaned. The last thing you want is for them to fall behind or to miss an important day of lessons. Even if you were to wait until after school to bring them to the dentist, they could just as easily be preoccupied with a sporting practice or rehearsal for an upcoming performance. You want them to be participating in these extra-curricular activities, which is also understandable.
That's why the summer season is the perfect time to get their routine exams and cleanings out of the way. By the time they need to come back, it will be close to the winter season when winter break is happening, making it easy to get their second set of cleanings and exams completed.
Confirming Their Oral Care Routine is Working
During the summer, their oral care routine can easily take a nosedive. When they don't have a schedule to follow, it can be easy for them to sleep in during the morning and start their day without even thinking of visiting the bathroom. When you bring your child in, we can confirm the current state of their oral health and make sure that no significant issues are causing damage to their teeth and gums.
If they need to make adjustments to their current oral care routine, a kids dentist in Towne Lake can push them in the right direction and ensure that their long-term oral health stays on the right path.
Education and Oral Development
Keep in mind that routine visits are not exclusively for performing exams, cleanings and sending your child on their way, especially during the summer. With the extra time you have, you can speak with the dentist directly and learn the best oral health tips to keep in mind during the summer season.
Additionally, dentists can confirm that no problems are present with their oral development. For example, they can confirm if your child is going to need braces later in life or additional treatments to defend against a higher risk of tooth decay.
Is getting your child to the dentist on your list of summer priorities? If you haven't gotten a chance to make it happen, now is the perfect time to get it out of the way. Schedule an appointment today and protect your child's oral health for life!
About the Author
Dr. Haren Patel has been working in the field of dentistry for over 15 years. As a father of two sons, he understands the importance of managing oral health starting at a very young age. To learn more about preventive services catered specifically to children, you can contact his office through his website.