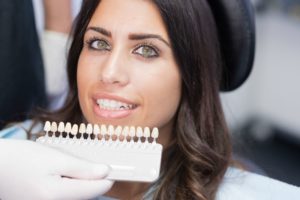 Summer is here, and that means that it's prime selfie time. Unfortunately, it can be awfully hard to post pictures of yourself when you're not happy with the way your smile looks. Maybe you have chips or cracks in your teeth that are too noticeable for comfort. Those could be fixed by either cosmetic bonding or porcelain veneers near Towne Lake. Let's look at the advantages of each of them to determine which one is right for you.
What Are Porcelain Veneers?
Veneers are basically masks for your teeth. Your cosmetic dentist in Towne Lake will remove a thin layer of enamel from the front surface of your tooth and place a layer of dental porcelain over it to hide any flaws. They can cover chips, cracks, stains, and even correct slightly crooked teeth. With proper care, porcelain veneers can last up to 5 to 10 years.
What is Cosmetic Bonding?
Cosmetic bonding, also called dental bonding or direct bonding, involves using a composite resin to repair a tooth with chips or fractures. The resin can be shaded to match the exact color of your tooth. Bonding can be done quickly in a single visit and can last for several years provided you brush and floss regularly.
Are Porcelain Veneers Right for Me?
Veneers might be the right choice for you for several reasons:
Veneers can solve more issues than bonding can.
They are more resistant to stains.
They typically last longer than cosmetic bonding.
Because veneers are custom-made to fit your smile, it's virtually impossible to tell that veneers are not your natural teeth.
Veneers can make over your entire smile at once.
Is Cosmetic Bonding Right for Me?
Here are some of the reasons why cosmetic bonding might be the perfect choice for you:
Bonding can fix minor issues such as gaps or chips. If you only have a couple problems to fix, bonding is probably the right option for you.
The process is simpler and less expensive than veneers.
Your enamel does not have to be removed.
This list can give you an idea of your option, but ultimately, you should discuss the issue with your dentist. Make an appointment today to figure out the perfect way to make your smile beautiful for the summer!
About the Author
Dr. Haren Patel studied dentistry at Gujarat University in his home country of India before moving to America in 2005. Then he achieved his Doctor of Dental Surgery degree at the University of Illinois at Chicago College of Dentistry in 2009. He excels in treating all ages of patients with all areas of dentistry, including cosmetic. If you would like for him to settle the veneers versus bonding debate, click here or call (678)-719-0071.