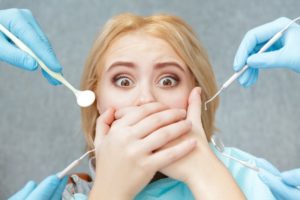 Have you ever felt so anxious at the thought of going to the dentist that you skipped out on appointments? You're not the only one. It's estimated that 20 percent of Americans have done the exact same thing. Because this problem is so prevalent, many dentists have introduced sedation dentistry to help patients receive the care they need while relieving anxiety. Let's look at how a sedation dentist near Towne Lake can use nitrous oxide to help soothe your dental fears.
What Is Sedation Dentistry?
Sedation dentistry involves using medication to help patients relax during their dental visit. There are two main types of sedation dentistry:
Nitrous oxide: Also known as "laughing gas," nitrous oxide is administered through a mask placed over your nose. It gives you a calm and happy feeling and allows you to receive dental treatment worry-free.
Oral conscious: With oral conscious sedation, you will be given a pill to take about an hour before your procedure. This pill will make you feel drowsy, comfortable, and relaxed. This option is better for patients with severe dental phobia, as it helps a patient forget about those fears. You will be awake during treatment, and able to respond to the requests from the dental team, but you will likely not remember the procedure. You will need a ride home afterwards, as you will be too out of it to safely drive.
What Can I Expect During Nitrous Oxide Treatment?
Your sedation dentist in Woodstock will place a mask over your nose that will feed you nitrous oxide, which takes effect in just minutes. You will feel lighter and it will feel like your dental fears have just floated away. You may or may not remember your treatment. Once the procedure is done, your dentist will pump pure oxygen through your nasal mask to flush the nitrous oxide out of your lungs. After the mask is removed, it will take about 15 minutes for the effects of the gas to wear off, so it's recommended that you sit in the waiting room until you are good to drive.
What Are the Benefits of Nitrous Oxide Sedation?
There are several benefits of nitrous oxide treatment, including:
Allowing you to stop prolonging the treatment you need
Soothing dental anxiety
Avoiding the potential harmful side effects that can come with being put under full anesthesia
Temporarily paralyzing your gag reflex to make treatment easier
Allowing you to drive yourself back home or to work after the procedure
Are There Any Side Effects of Nitrous Oxide?
As with most medical procedures, there is a very small chance of negative side effects. Usually these occur if the nitrous level is too high or if the amount being inhaled changes too quickly. The potential side effects include:
Fatigue
Nausea or vomiting
Headaches
Shivering
Excessive sweating
Remember that these side effects are rare, and your dentist can treat them should they occur. Nitrous oxide is great for when you have mild to moderate dental anxiety. If the thought of being in the dental chair scares you, call your sedation dentist near Towne Lake anyway. They can soothe your fears and give you the treatment you need.
About the Author
Dr. Haren Patel has over 15 years of experience in the dental field. He graduated with his Doctor of Dental Surgery degree from the University of Illinois at Chicago College of Dentistry in 2009. His practice offers nitrous oxide and oral conscious sedation, so no matter how severe your dental anxiety, he can ensure you have a relaxing visit. To learn more, click here or call (770)-592-7000.