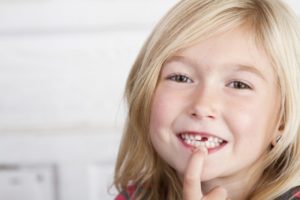 Did you know that children are five times more likely to get a cavity than asthma? In fact, about 20% of children ages 5 through 11 have at least one untreated decayed tooth. If left untreated, these teeth can cause pain or infections that can impact a child's ability to speak, play, learn, and eat. This February, which is National Children's Dental Health, is a perfect time to evaluate how well you are teaching your child to care for their teeth. To help you improve, check out these helpful tips from your children's dentist in Towne Lake.
Visit the Dentist
It's important for your child to see the dentist every six months for a checkup and cleaning. Why? The family dentist in Towne Lake performs an oral exam to ensure that your child's mouth is healthy. They can catch problems while they are small and easy to treat instead of waiting until a problem is more advanced and painful and requires more intensive treatment.
Also, during this appointment, your child receives a dental cleaning. Even with the most diligent oral habits at home, plaque can still build up. Over time, it solidifies into tartar and become much more difficult to remove. Your hygienist uses professional tools to take care of this buildup and give your mouth a fresh start. By having this appointment every six months, you can prevent problems from happening in the first place or stop them before they progress too far.
Floss Daily
In addition to brushing twice a day, your child should also floss their teeth at least once a day. It may seem like a little thing, but it makes a huge difference in their oral health. Think about all the spaces in between your child's teeth, where their toothbrush can't reach. Plaque can accumulate there and cause a cavity. Flossing helps sweep this harmful plaque away. Implementing this little task into your child's daily routine could pay dividends in their long-term oral health.
Start Early
With all these oral practices, it's important to establish habits while they are young. In fact, it's never too early to start teaching your child how to care for their teeth. From their birth, you can use a washcloth to massage their gums and wipe away bacteria. As their teeth come in, you can switch to brushing twice a day and flossing. You should start bringing them into your children's dentist in Towne Lake after their first birthday and every six months after that. By starting these habits early, you communicate their importance to your child. In addition, they can become comfortable with the dentist and their tools, helping to prevent dental anxiety in the future. If you make their oral health a priority, your child will be more likely to continue these practices into adulthood.
If you teach your child these important oral practices, you and your dentist can notice a difference in their oral health and other areas of their life. It is worth putting in the time and effort now while your child is young to see the health benefits for years to come. For more information about caring for their dental health, contact your children's dentist in Towne Lake.
About the Practice
At Dream Dental, Dr. Haren Patel has 15 years of dental experience, including treating young smiles. As a father of two, Dr. Patel knows how to make children feel comfortable and relaxed in the chair. He and the staff have created a welcoming environment where children and adults alike can receive the treatment they need. To schedule an appointment, you can call (770) 592-7000 or click here.