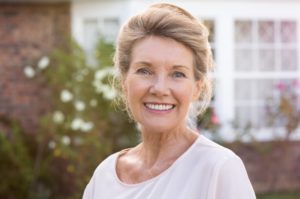 Are you missing teeth? With 120 million people missing at least one tooth and 36 million missing all of their teeth, this is a very common dental issue. For hundreds of years, patients have turned to dentures to restore the look, feel, and function back to their smiles. But, if you've had any experience with traditional dentures, you may know that this is an imperfect solution. Thankfully, implant retained dentures in Woodstock can give you all of the benefits of dentures, without any of the usual drawbacks. Keep reading to learn more about implant retained dentures and their benefits.
What Are Implant Retained Dentures?
First, you should understand what traditional dentures are. Dentures can come in full or partial prosthetics to replace a whole row or part of your smile. They are made up of a gum colored base attached to false teeth. The base is usually made out of resin and the tooth materials can vary. Dentures rest on top of your gums to give you a full smile, but they aren't fastened or secured to anything.
Implant retained dentures use strategically placed dental implants to anchor your dentures in your mouth. Not only does this keep your smile in place, but the denture is still removeable, so you can simply click it in and out of your implants. Dental implants are tiny titanium posts that are placed in your jawbone to act has artificial tooth roots and they can be used to stabilize dentures.
What Are the Benefits of Implant Retained Dentures?
Easier talking and laughing because your dentures aren't slipping or sliding around.
Better self-confidence because you won't be worried about your dentures moving when in public.
You can eat more of your favorite foods because implant retained dentures help restore more of your biting power compared to traditional prosthetics.
Implant retained dentures improve your health because dental implants stimulate and preserve the jawbone.
How Do Implant Retained Dentures Compare to Traditional Ones?
Cost
Implant retained dentures are more expensive than dentures because of the use of dental implants. However, dental implants themselves can last a lifetime, which makes them well worth the investment compared to other solutions.
Treatment Time
Implant retained dentures take much longer than a traditional prosthesis to get ready for your smile. Because dental implants in Woodstock actually integrate into your jaw, it can take months for your mouth to be ready for dentures.
End Result
Although implant retained dentures take a longer amount of time and have a higher price tag, they offer life changing benefits that dentures can't bring you. Between stabilizing your dentures and preserving your jawbone, the choice is clear!
Does it sound like implant retained dentures are right for you? Contact your dentist to get started on a more functional, natural looking, and secure smile.
Meet the Dentist
Dr. Haren Patel has a passion for providing quality dental care to create lasting relationships in his community. He takes pride in offering dental implants as a way to secure and stabilize his patients' dentures. He currently runs Dream Dental, and he can be contacted through his website or by phone at (770) 592-7000 for any questions.