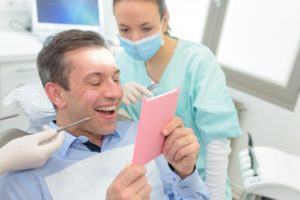 How would you like to go into the New Year with more confidence? No, you don't have to read the latest self-help book. Just see your cosmetic dentist in Towne Lake. That's right. A dentist can perform a number of cosmetic dental treatments that will take your smile from drab to fab and your self-confidence from low to high! Put the past behind you and smile at the future.
Teeth Whitening
If your teeth are generally in good condition but could be whiter, then go for teeth whitening. Sure, there are plenty of options sold over the counter, but nothing beats professional whitening. You'll be given custom-fitted mouth trays and powerful whitening solution. Fill the trays and wear them on your teeth every day for about 30 minutes. After two weeks, you'll be amazed at the results.
Direct Bonding
Have a tooth with a small chip? Maybe one that is proportionally smaller than the rest? No worries. A dentist can use direct bonding for a quick fix.  With just a dab of composite resin material, any tooth that detracts from your smile is reshaped. Composite resin can be shaded to precisely match the color of your tooth. Also, the entire process usually takes less than an hour and almost never requires anesthesia.
Porcelain Veneers
If several cosmetic flaws mar your smile, then porcelain veneers in Towne Lake may be the ideal solution. Veneers are strong teeth coverings designed to hide your imperfect smile and give you the perfect one you deserve.
A small amount of tooth enamel is removed from the teeth that show most when you smile. This is done to ensure that the veneers lay evenly with your other teeth.
Based on impressions taken in the office, the dental lab creates customized porcelain veneers for each tooth. Together, these individually designed veneers will give you a smile that looks completely natural. Once bonded into place, you'll want to show off your new smile as often as possible!
Dental Crowns
Sometimes, a tooth is severely damaged either by decay or traumatic injury. In this case, a dental crown will rebuild the tooth and protect the remaining tooth structure.
The tooth will be resized so when the dental crown is placed, it will fit comfortably between the adjacent teeth. Once in position, the crown will look and perform as well as one of your own teeth.
To find out how a dentist in Towne Lake can give you a new smile for the New Year, call to schedule a consultation today.
About Dr. Haren Patel
Dr. Haren Patel has 15 years of experience in dentistry. In addition to helping his patients enjoy good oral health, he also strives to create beautiful smiles. If you are ready to transform your confidence with cosmetic dentistry, contact our office today to schedule your consultation.