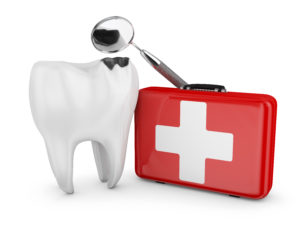 In life, there are good surprises and bad surprises. Unfortunately, dental emergencies always fall into the latter category! Whether it's a toothache or a broken filling, the uncertainty of how to deal with sudden pain is never a fun experience. In this blog, you'll learn how to recognize and handle some of the most common dental emergencies. And don't forget – good care from an emergency dentist in Woodstock is never more than a phone call away. Whether it's simply getting the advice you need or scheduling the next available appointment, you can rest assured that you'll be out of pain as soon as possible!
How Should You Handle a Dental Emergency?
The first step is recognizing when you're truly having a dental emergency. Signs of an emergency include severe pain, bleeding or swelling, or when you suspect something is broken. Having said that, when in doubt – don't hesitate to call a dentist!
As for immediate care, here are some tips for common emergencies:
Broken tooth or filling – If a tooth or filling has chipped, put any large pieces in a small plastic bag and rinse out your mouth with lukewarm water. If necessary, you can use dental wax from the store to cover a sharp or broken edge until you can be seen.
Toothache, abscess or swelling – Any of these symptoms can indicate an infection, which requires immediate treatment because it can spread to other areas of the body and become dangerous. Swish with lukewarm salt water every 3-5 hours until your appointment and take over-the-counter pain medication as directed.
Broken jaw – This is one emergency that requires medical attention from the nearest hospital emergency room. Once you've been stabilized, call an emergency dentist in Towne Lake for any dental restorative needs you may have.
Knocked-out tooth – For a knocked-out tooth, time is of the essence! The best chance of saving your tooth is being seen within one hour. Start by gently rinsing it off (holding it only by the crown, not the root) and place it back in its socket, facing the right way. If this isn't possible, put the tooth in a glass of milk. As a last resort, you can hold the tooth in your cheek pouch or in a glass of water. It's crucial that the tooth stays moist until your appointment.
Dental emergencies are incredibly alarming. But rest assured that you'll get great care from an emergency dentist who will get you out of pain as fast as possible!
About the Author
Dr. Haren Patel is a general and emergency dentist in Woodstock who provides outstanding emergency care. He always leaves room in his schedule so he can quickly accommodate his patients who are in pain. In addition, he offers a $49 emergency exam, which includes an exam, any necessary X-rays and a consultation for new patients. If you're in an emergency dental situation and have any questions, he can be reached via his website or at (770) 592-7000.