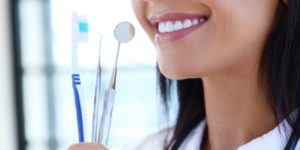 There are many reasons that people search for a new dentist. Maybe you've recently moved to a new town or your current dentist is retiring. Or you might simply be unhappy with the care you've been receiving. In any case, finding a new family dentist in Woodstock is a process that you probably only want to go through once! Fortunately, there are some simple things you can look for that will help ensure that you find the right fit for you and your family – right from the start. Keep reading to learn more!
How Should You Start Your Search?
First, since dentists have different areas of focus, determine the type of care you want. The best way to find a dentist who can do it all is to look for a family dentist. That way, you can get dental care for everyone in the family under one roof, which saves a lot of time and energy!
Next, read reviews. This is one of the best ways to find out what the actual "patient experience" is like and is the next best thing to old-fashioned word of mouth.
Finally, you can always call before scheduling your first appointment if you have any questions or you simply want to meet a dentist in Woodstock beforehand.
What Should You Look For In a Quality Dentist?
Here are a few things you'll want to find in a new dentist:
Has a clean, modern office – Cleanliness is a must, as well as modern technology like digital X-rays and intraoral cameras that will lead to a better overall experience for patients.
Offers specials – Ideally, you can find a dentist who offers specials to new patients of all ages so you can try them out without breaking the bank.
Explains your options – You want a dentist who will thoroughly explain your treatment options so you can make the right decision for you. You should also always feel comfortable asking questions.
A great staff – You'll be interacting with everyone from the front office staff to the hygienist and dental assistant. You want to make sure that everyone is friendly, skilled at what they do, and work well together.
Finding a great dentist that you'll want to stay with for many years is well worth the time and effort. You'll feel great knowing you're helping your whole family have a healthy, beautiful smile for life!
About the Author
With over 15 years of experience in dentistry, Dr. Haren Patel makes it a priority to build long-lasting relationships with all of his patients. As a father of two, he knows how important it is to find quality healthcare providers that will provide outstanding care for the whole family. If you have any additional questions, he can be reached via his website or at (770) 592-7000.